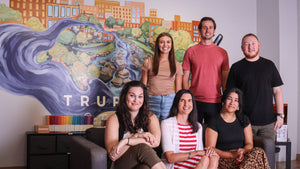 Hello! It's great to meet you!
Owner, CEO
Chris Henline
I hope to never lose touch of our one-on-one customer service approach as it has served to build some of the greatest relationships and friendships I have ever had.
I grew up in the mountains of North Carolina, in a small town called Spruce Pine. I learned at an early age what it meant to work as a means of survival, by stacking wood for my grandparents, starting my own lawn maintenance business at 12, and working at my parents' furniture store all throughout high school and college.
With an early fascination in cars, and pretty much anything expensive, I didn't know until my senior year of college that there was actually a collectors' market for fine fountain pens. In fact, I thought they were a thing of the past! One of my best friends in college introduced me to Montblanc, and the amazing writing instruments they offered for sale, and I was instantly hooked. Truphae started as a way to earn a little supplemental income while I pursued a career in investment banking. I was blessed to work on Wall Street through an internship, tied with a continuing education program. After the internship ended, I began struggling to interview for firms in New York while being located in North Carolina. I eventually decided to pursue my true interest, and leave behind any aspirations of vast wealth. I wed my long-time girlfriend and pursued Truphae full time in 2016!
We moved to New York on our wedding day (we literally left the wedding and drove to the airport), and spent a year in the Big Apple. New York certainly taught us some great things, and gave us the drive to pursue our dreams. We relocated to Greenville, South Carolina (where I went to college!) in 2017, and have been here ever since! My dream for Truphae is to become a one-stop shop for all things fountain pens, and pen related items. I hope to never lose touch of our one-on-one customer service approach as it has served to build some of the greatest relationships and friendships I have ever had. Our pursuit of this goal has blessed us with 6 fantastic team members, who you will meet below. If you have shared interests with any one of them, they'd love to hear from you!
Co-owner
Kylie Henline
As the co-owner, support, and wife behind the Truphae brand, I naturally fell into the creative design side of the business, working mostly with ink and artwork. I am originally from Oregon, but grew up in the mountains of North Carolina. I'm a lover of all things furry, and am an aspiring Vegan. When I'm not working with Chris and the business, you can usual find me at a yoga studio!
Digital Marketing
Max
As the digital guru for Truphae, I manage multiple social media channels, organize photoshoots, interact with customers, write content, and ultimately help grow the company through strategic digital guidance. I love the visual side of the pen business - finding cool ways to display new models, and making each brand just as visually appealing as the next (I get it - everyone loves Montblanc, but there are other fun brands, too!). My free time is split between digital marketing (Instagram-obsessed), spending time with my two pet pigs (they're kinda famous!), modeling (yes I let them Photoshop me), and watching all types of films (horror is the best!).
Content Creator
Morgan
After moving to South Carolina in high school, I found myself drawn to all sorts of art forms as a creative outlet. Journaling and photo/video creation were my favorite hobbies growing up. Now I get to do product photography, create video content, put together marketing pieces, and work on the website for Truphae. Showing off the large collection of pens, inks, paper, and accessories to our customers has been so fun. Outside of Truphae I love to try new restaurants, travel to unique places, and spend time with my adorable Siamese cat.
Photographer
Lindsay
I am an avid Truphae admirer—no, but seriously. Joining forces with Truphae has taught me so much about the value of a beautiful pen. I started out appreciating simply working behind the curtain and getting to use my creativity alongside the rest of the team. Since getting to photograph these pens and discuss the meaning behind each unique style, I have a newfound respect for luxury fountain pens. Being from a small town near the coast of South Carolina, I've always had a passion for capturing moments, whether through writing or photographs. I have a special place in my heart for tea time, cats, and the outdoors. As a lovable goofball, I strive to make those around me laugh and see the brighter side of things. My greatest aspiration is to truly live in each moment and stay in awe of the little things—they count!
Boutique Coordinator
April
A former editor and journalist raised in Upstate, SC, I am passionate about sharing stories and crafting extraordinary content. I've been a fountain pen enthusiast for more than 20 years and enjoy using my pens to write to my more than 30 pen pals, and for journaling. I don't have a "grail pen", but delight in sampling models from diverse brands throughout the pen universe. Now I have the chance to share my pen passion via Truphae: interacting with amazing customers, planning events, and creating content. Outside of Truphae, I love to read, travel to places with tropical beaches, create papercraft, and spend time with my husband and two children.
Warehouse Manager
Cristy
Art and design have always been a part of my life. Coloring books, visits to the office/art supply shops for new stationery items, design school, photography classes... it all has culminated in me now working with beautiful fountain pens. As the warehouse manager, I get to work on a lot of behind-the-scenes processes that people often don't think about, but they make your experience with Truphae run so smoothly. My role includes filling ink samples, keeping inventory, creating social media content, and even visual displays around the store (which honestly I'm the most excited for). Thinking about the visual side of fountain pens is so exciting for me. I look at them as works of art (which they are - have you seen some of these pens?). Outside of work, you can usually find me sleeping on a hammock by the side of the pool (at least that's the dream) or playing an intense game of roller derby - there's no in-between.
Digital Growth Manager
Brady
I'm the force behind Truphae's dynamic online presence. Starting my own online business was a journey that introduced me to the intricacies of search engine optimization (SEO) and digital marketing. I mastered the art of developing a prominent online identity, making it possible for my brand to stand out in a sea of competition.
My curiosity about the world of fine pens and the mastery involved in their creation led me to Truphae. Here, my role surpasses traditional SEO and digital marketing. I utilize my skills to accelerate the brand's growth and reach, establishing Truphae as a household name in the industry.
My focus is on creating captivating content and enhancing online user experiences to shape Truphae's digital identity effectively. By doing so, I'm amplifying our brand's visibility and building connections between Truphae's superior product line and a continually expanding global audience.